2020/01/31
By Franck on Friday 31 January 2020, 20:40 - News - Permalink
Tour
TvB is touring this winter & spring. See all dates below and details in the shows page.
2020/02/07 - Intime Festival - Saint-Avertin (37 - Fr)
2020/02/15 - Festival Hors-Pistes - Annecy (74 - Fr)
2020/03/19 - La Nef - Angoulême (16 - Fr)
2020/04/09 - Festival Faveur de Printemps - Hyères (83 - Fr)
2020/04/28 - La Machine - Bruxelles (Be)
2020/04/29 - Le Vecteur - Charleroi (Be)
2020/04/30 - Le Grand Mix - Tourcoing (59 - Fr)
New book
Here is a message from Troy about it:

To all my French/English speaking friends, I'm happy to announce that I made a new book for you. It's called "Caution! Poison Snake! No Entry!"
This book is special because it features the drawings of James Kroll (Bass of Chokebore) and preface + photos by Mathias Malzieu (Singer of Dionysos/Author/Film maker)
It's a fun and intense book of short stories, flash fiction, and warped lyrics.
The book is in French and English (I'm super happy about this).
"Caution! Poison Snake! No Entry!" will be in the shops in France on April 1st but you can buy it now from Eidola Editions right here.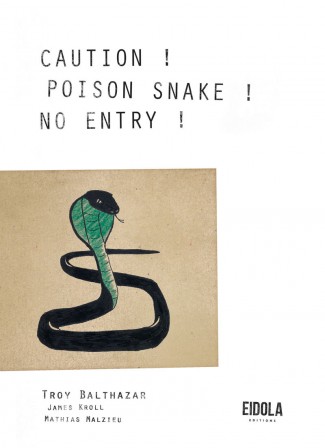 You can visit him this weekend at the comic festival in Angoulême: he'll be signing his book and play some songs / read.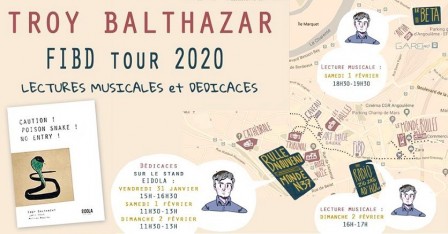 Production
TvB recently produced a 5 song EP for an artist named "Encre Amer" from Paris where he played instruments, did the production, and mixed the EP. It is "A TvB Production"!
He really enjoyed producing another artist and want to do it much more.
Listen on Bandcamp
Back to school
Troy is also working with kids in Angoulême for a school project. You can read the review on the newspaper below (click on the image to enlarge).