2021/07/23
By Franck on Friday 23 July 2021, 00:21 - News - Permalink
Courage, mon amour ! out on August 20th
The new TvB album Courage, mon amour ! will be released on August 20th. You can pre-order it now on Vicious Circle shop: français / english.
It's available in CD (with booklet / poster), black vinyl, limited edition transparent red vinyl (for pre-order & indie stores). Free poster for each vinyl order.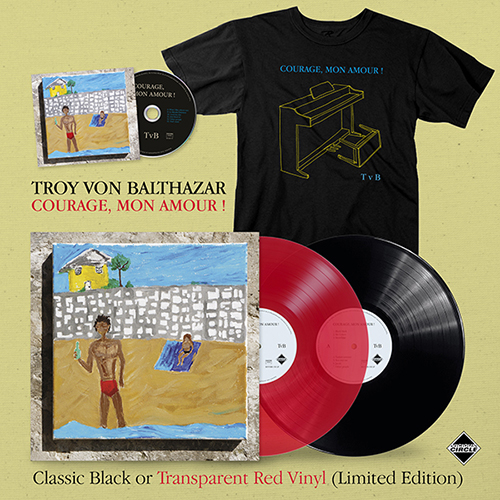 Tracklisting
Black Black
Mr. Cohen
Snowflake
Violent Summer
You Owe Me
Jacob
Move Me
What I Like (About Me)
Le Monde Extérieur
Until the Day
Just Don't It
Other People
End Crazy
New video
Discover the first single What I like (About me) from the new album in video below. You can also stream it on your favorite digital platform.
A message from Troy
[FR]
Bonjour mes amis,
Juste quelques mots pour vous dire que j'ai commencé à mixer de la musique pour des artistes et des groupes cette année. J'adore chaque minute et j'ai trouvé ma nouvelle passion.
Si vous aimez le "son du groupe Chokebore" ou le "son lo-fi de TvB", nous devrions parler.
Je peux ajouter des instruments, des idées et des mixages qui sonnent bien. Nous pouvons travailler ensemble pour rendre votre musique intéressante, intense et belle.
Si vous avez un projet qui a besoin d'un excellent mixage, n'hésitez pas à me contacter.
[EN]
Hello my friends,
Just a few words to let you know that I began mixing music for artists and bands this year. I love every minute and found my new passion.
If you love that "Chokebore band sound" or the "TvB lo-fi sound" we should speak.
I can add instruments, ideas, and great sounding mixes. We can work together to make your music interesting, intense, and beautiful.
If you have a project that needs a great mix please feel free to contact me.